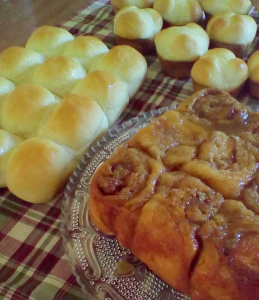 I remember that Thursdays were usually baking day on the farm. We ate bread at most if not all of our meals. And accordingly we consumed an awesome amount of bread. Mom usually made at least a dozen or more loaves of bread at a time.
But what I really liked about baking day was.,, when Mom would make sticky buns with the leftover dough.  And if there were any raisins in the house (Mom had a tough time keeping raisins around but that is another story), she would sprinkle the raisins with the cinnamon.
Absolutely yummy.  I could easily eat three of these puppies at a time. Even eating these buns was a joy… slowly unrolling the bun by the layers and savoring every bite. Just too good!